Two people from our congregation are members of a team visiting Peru this summer: Alex Boyd and May Green. The team is being led by locals David and Yury Fleming and includes people from a range of churches in Northern Ireland. From 20th July the team will be in Tacna in the south of Peru, where John and Lourdes Brew of Irish Baptist Missions, Yury's parents, will accommodate them. They plan to visit a girl's shelter, help a local church and possibly deliver tracts, and work with elderly folk.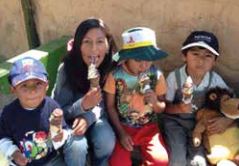 By the following weekend, they will have climbed 2335m., about 8,000 ft., above sea level to Arequipa – by bus, not rope and tackle! There until 2nd August, they will hold Holiday Bible Clubs at the two Children's Homes with which Emily Peru Hope Trust is involved.
The two Homes are: New Hope, founded by an American couple in 1995, with about forty-eight children; and Casa Hogar El Amor de Dios ("The Love of God Home") which was started and is run by a local couple and now has about sixty children.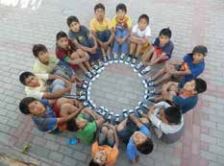 The team will also get involved in practical tasks to help sustain the physical fabric of the Homes: for example, painting the tall support poles that suspend the canvas sunscreen over the play area; and they hope to provide some treats for the children.
Each team member is self-funding as regards travel, accommodation, and food. To help to pay for the practical work and those treats at the Homes there is to be a fund-raising concert in this church at 7 p.m. on Saturday 8th June, when you can learn more about the trip. Do come!