Many of you will be aware that during January our ministry insight is CB:Youth. You can find out about CB:Youth in the January bulletin. This year during our study sessions we are giving our youth the opportunity to explore difficult life and faith questions that they might have. We hope that this will not only increase their understanding but also help as they speak about God with friends and family.
We would love your help!
Friendship
Our young people face many difficulties and your friendship, support and advice would prove invaluable to them.
Some ideas to start a friendship may be asking them how their week has been when you see them at church or sending them a card/private facebook message to let them know you are praying for them. You could also bring them out for coffee or dinner (although we must stress please ask a parent if they are under 18). These friendships could lead to a regular catch up to study the Bible and pray together.
Practical Help
As with all youth, we love food!  You could host cribs (provide supper and a house)  on Sunday evenings, supply breakfast on a Sunday morning for us all at church or maybe just provide some crisps, sweets and fizzy drinks for study nights or the upcoming weekend in April. If this is something you would be interested in, talk to Chris Wolfe.
Pray
When you pray for our young people please pray that as God's word is opened, their eyes would be opened to their need for a close personal relationship with our Christ and Saviour. Pray that they will learn wisdom, from an unchanging God, to deal with the many challenges they face in a fast-changing world.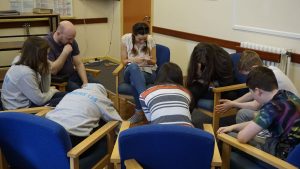 Pray for the leaders as they develop relationships and seek to bring Gods truth to the youth. Pray especially for Chris Wolfe as he leads the team and organizes each week.