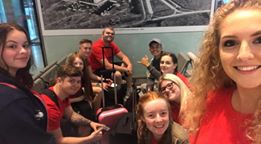 On the 8th July 2018, I set off on my trip to Slovakia with 9 others from Carrickfergus. Our bus left Belfast bus station at midnight, with our flight leaving Dublin airport at 6am. It was a long day of travelling as when we arrived in Slovakia we had a further 2-hour bus journey before we got to our accommodation for the next week.
We stayed in a small church in one of the villages and our host Timea couldn't do enough for us to help us settle into our accommodation based in the church complex. We were well prepared for the kids' club but all we really needed was a good night's sleep so we were ready for the children arriving at 8:30am the next morning.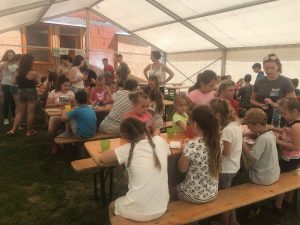 We helped the church run a kids' club, did some practical work around the church in the afternoon time and then we led the service on Sunday in the church. The practical work involved restoring a 40 metre-long metal fence which brought challenges of its own in the 30 degree heat.
The kids' club was a great experience for me and was very different to what I am used to back home. The language barrier was difficult and everything had to be done through a translator. Although the kids spoke no English we were still able to have lots of fun with them through different games and they especially loved when we brought the parachute and water balloons out. We went through about 1000 water balloons over 5 days which was quite a job each morning trying to get them filled up. We also taught the kids some songs in English and it was amazing how quickly they were able to pick them up as we still couldn't sing the ones in Slovakian after 5 days.
Once we finished our time in Slovakia we travelled to Budapest where we had a couple of days off and then at night time did some work with the homeless there. We gave out sandwiches and water to those living in the streets and although we didn't have the manpower to reach all the homeless in the city, it was a great opportunity to be able to show God's love in this way.
I am very thankful for the experience I had to co-lead this team of young people out to Slovakia and see them grow in their faith. I have learnt that trusting God is key when stepping out in faith but also that preparation is a fundamental part of any mission trip.
Thank you for your support and prayers while I was away.