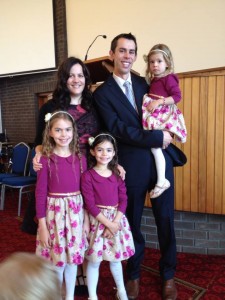 Peter is married to Joanne and they have three daughters. He was brought up in a Christian family and trusted Christ as his saviour at a young age. Peter became increasingly involved in his local church as a student and had a growing interest in children's and youth ministry.
After graduating from Stranmillis College, Peter worked as a primary school teacher in Belfast, before leaving that job in 2004 to work in full-time children's ministry with Baptist Youth. In 2009 he went to study at the Irish Baptist College in preparation for Pastoral Ministry and started as a pastor in Carrickfergus in 2013.
Peter's passion is for teaching the Bible and his desire is for the church in Carrickfergus to grow and deepen in their love for God, their love for one another and their love for the lost.